When you choose your air conditioning system it will be based on the specific environment you are wishing to cool and the needs of that room. A cassette air conditioning unit is deemed one of the best all rounder's when it comes to cooling. This is because these ceiling units have very little noise and once they have been installed and in use for a couple of weeks, customers barely notice them anymore which is perfect for an office environment. They are also quite quick to install compared to other air conditioning units as a result of them being light weight and quite compact.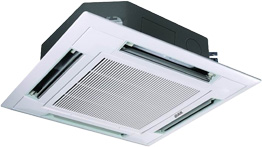 As they will be installed in the ceiling you do not lose any wall or floor space which can be vital in a busy office or shop environment and they can be used on ceilings that are up to 3.5 metres high.
Some of the benefits of the cassette range that G T Refrigeration installs are:
Low Ambient Control as standard
Auto Changeover
Group Control (up to 16 units)
Central Control (up to 128 units)
PLASMA Air Purifying System
High Head Condensate Lift Pump 700mm
Two Thermistor Control Option
Up to 50m Separation
The unit also comes with a three year parts and labour allowance warranty so if you are after an all round air conditioning system opt for the cassette range. Call G T Refrigeration or use our contact form today for further information.