A floor standing air conditioning system can be stood on the floor or mounted at a low level on the wall. As a result they offer much more flexibility. With this in mind you can choose the rooms in which you cool which means that you can save money by being selective with where you use them opposed to a central air conditioning system which will need to be on to cool all the rooms. This makes a floor standing system a lot cheaper to run and also to buy that a central unit.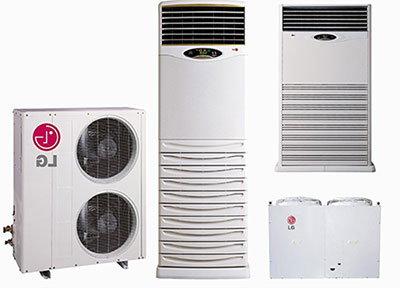 Here are some of the functions that G T Refrigeration's floor standing range offers include:
PLASMA Air Filtration 8.8 and 14.6kW models
Infra-red Remote Control
Lockable Control Function
Two-way Auto Louvres
Suitable for Ducted Outlet
Auto-restart
Interconnecting cables supplied (5 metre)
3 years Parts and Labour Warranty
Up to 50 metre separation
Up to 30 metre elevation
Electric Heater Fitted as Standard
If you would like more information on this type of air conditioning unit then get in contact with G T Refrigeration today and find out what we can do for you. We will also be able to install maintain and service the units for you.